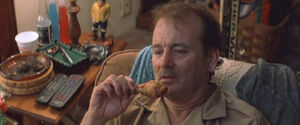 Frank DeTorre is a live-action character from the film. He is the father of Shane DeTorre and brother of Bob DeTorre. He's a widower.
Personality
Edit
Frank is lazy, gluttonous, unhealthy and a little fatherly. Despite this, he has a deep love for his daughter Shane, and would do anything for her.
Bill Murray (Osmosis Jones)
Jeff Bennett (Ozzy & Drix)
Biography
Edit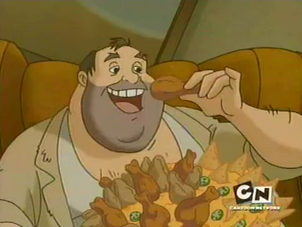 Frank lost his wife to some unknown disease, and he was left to take care of Shane. His life began to spiral out of control after an incident during the science fair at Shane's school. After eating raw oysters from a display, Ozzy discovers a virus on one of them and induces Frank to throw up. Unfortunately it was on Shane's science teacher. Frank became the laughing stock of the town, and was fired from his job at a pea soup factory. His brother Bob hooked him up with a job at the zoo, where he has worked ever since. He accidentally infects himself with a virus after eating a boiled egg that was covered in chimp saliva. As a result, he nearly dies from the fever that it brings. After his near death experience, Frank has decided to take better care of himself, so he can be there for Shane.
Ozzy and Drix
Edit
Despite being healthy after the movie, Frank regained most of his weight even becoming much fatter than in the movie. His only role in the show was getting bitten by a mosquito which sucked Ozzy, Drix and a germ they were fighting out of him and sends them in to the body of Hector Cruz.