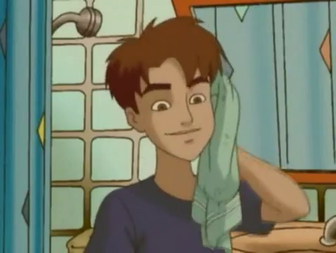 Hector Cruz is a 13 year old boy and one of the main characters in Ozzy & Drix.
Personality
Edit
He's a typical 13 year old boy. He is foolhardy, a risk taker, and aware of his physical appearence. As evidenced by not taking care of his teeth, abusing nasal spray, and supersizing his fast food meals, he does not take care of his body like he should. He tends to be easily embarassed, especially around Christine Kolchuck. As shown in "Gas of Doom". His mother often described him as a "gassy taco".
Ozzy & Drix
Edit
He is the tritagonist of the show. He and his family are Cuban American. Ozzy points out tht Hector is a lot like Frank at that age. About that time, Frank started deteriorating as he began smoking, eating fast foods and latenights, and not watching what he ate. To prevent that from happening to someone else, He and Drix decide to stay in Hector. He has a crush on Christine Kolchuck, who sometimes looks out for him, and so does his best friend Travis.
Hector is portrayed by Justin Cowden.
Hector lives in the same neighborhood as Frank DeTorre.
Hector has some similarities to Frank when he was his age.
His body is the new main setting of Ozzy & Drix.
He is allergic to a certain type of pollen.