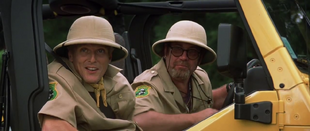 These zookeepers work at the same zoo that Frank DeTorre and Bob DeTorre work at.
Personality
Edit
These zookeepers are sarcastic and mean to Frank and Bob probably because of Frank's oyster vomiting incident at Shane DeTorre's science fair.
Osmosis Jones(film)
Edit
Write the second section of your page here.
The zookeepers are portrayed by Danny Murphy and Jack McCullough.
The zookeepers make another appearance in Frank's nightmare which is similar to the scene where they're laughing about the compliment.